Picture Credit: Teemill – Mart & Rob Drake-Knight
"We started our business with £200. Now our company Teemill provides circular, carbon-neutral supply chain to BoxHuman & 10'000+ other brands" – Mart Drake-Knight
We at BoxHuman are passionate about highlighting and celebrating inspiring humans and businesses; especially the ones who are inspiring, helping, and bringing light to the world. We do this to rebalance some of the negative messages and issues that are affecting the people & the world every day.

In this exclusive interview, we had the absolute pleasure to meet up with one of the founders whose company is behind helping us to provide our BoxHumanCulture sustainable 'Empowered' clothing collection…
Without further ado, let's start this BoxHuman Inspire Series interview. Can you please tell us in your own words a little bit about yourselves?
Hi, I'm Mart & I'm an engineer. My brother Rob & I started our company because while the clothing industry is the second most polluting industry on Earth, natural materials and renewable energy exist so we believe a world without waste is possible in our lifetime and someone needs to build it.
We started a brand and built some technology to design out waste and build a working circular supply chain. Now a team of 100+ are scaling up the technology and products by sharing it with other brands. We recently did a Ted Talk about it.
What a great introduction, thank you, Mart. Moving onto our next question…What does your business do and where is your company based?
Teemill is a free platform that anyone can use to start a brand and sell natural, renewable and circular products on the internet. We make and ship orders in real time that are designed to come back and be remade when they are worn out.
The platform means anyone can build a brand on a circular economy from day one. We started in a garden shed on the Isle of Wight and we are still on the Isle of Wight. I'm in Freshwater typing this in one of our factories. This one used to be an old supermarket. There's one up the road in East Cowes, in Europe, a team in Bristol. It's the same thing basically, a sustainable technology business in sheds. There's just more sustainability and more technology and more, perhaps bigger sheds.
Wow, what an amazing business, go Teemill! Now that we know what cool business you run can you tell us…What led to your 'aha' moment? And how did you get to where you are now?
For us, we can't say AHA unless we do it in an Alan Partridge voice… AHA! We realised somewhere along the way that what people call waste is actually material and material is worth something. So we designed our products from the start to come back at the end and be remade when they're worn out. Thinking of our customers as part of our supply chain helped us all keep material flowing and in use.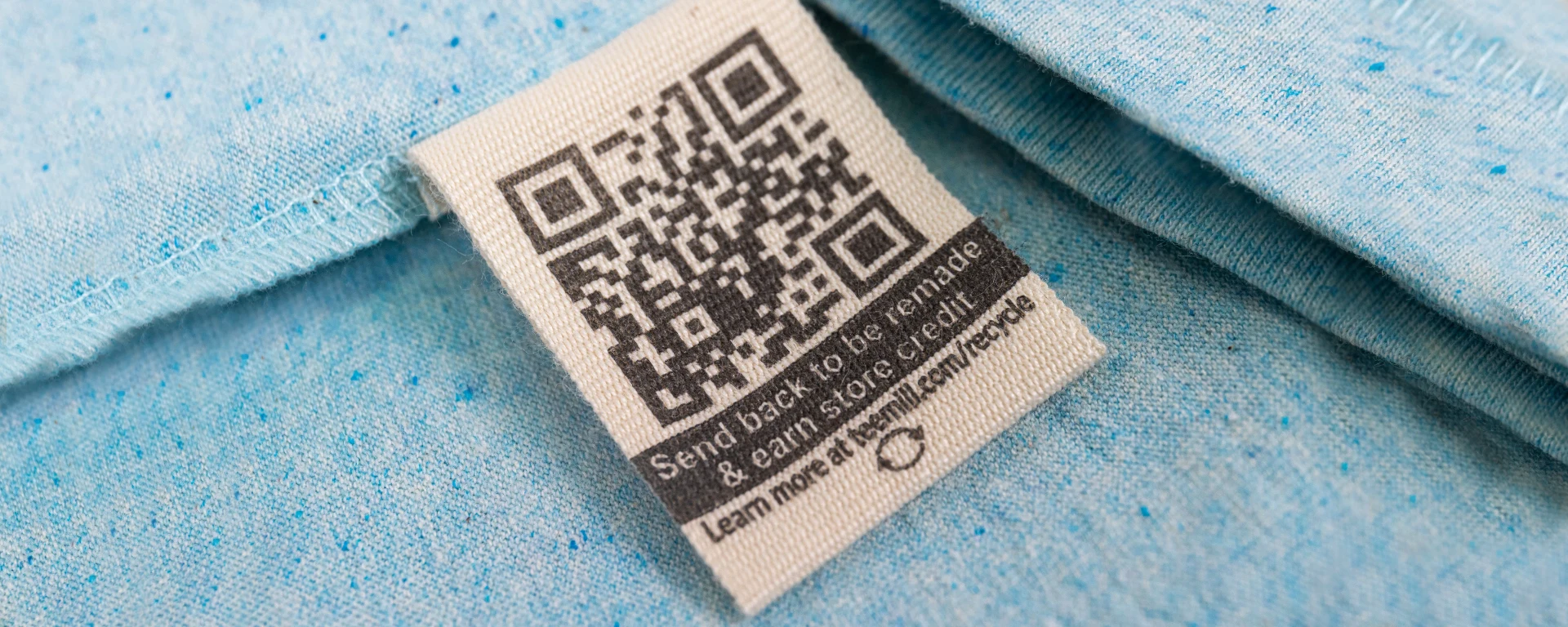 Picture Credit: Teemill
We love an Alan Partridge impression, thanks, Mart! As with life, there can be ups and downs and this absolutely goes with business. Can you please tell us…What's been the biggest lesson you've learned so far and what have you learned from it?
To redesign a system it's not one thing that makes 100% difference but 100 changes that make 1% difference. I think a lot of people look for answers but we are comfortable just holding onto the right questions. Like "what is this made from, where will it end up" and if we want to change the end, "design the end at the start".
It's also a journey and it's not a smooth one. There are no Eureka moments and then a linear journey to scale. Coming back from lunch one day we saw some smoke on the horizon which was dramatic so we decided to go do some rubbernecking. Then as we got closer it was our factory burning to the ground along with some neighbouring buildings where the fire started. Sustainability is a human endeavour so it's not simple, things go wrong and there are mistakes. Having a mission makes it easier to keep going.
Here's a funny picture from that day and to repeat this was not our fault.
Picture Credit: Teemill – Fire at the Teeemill factory in Cowes.
Every failure is an opportunity to learn. Teemill is all the stuff we built in response to problems we are trying to solve. If you enjoy problem-solving, building a company can be rewarding as there are things to work on every day.
Sustainability is one of the world's biggest problems and the solutions provided by innovative purpose-driven companies will become the world's biggest companies in future. That's why we are optimists. We're the first generation that has access to the technology that could quickly and credibly solve it, so it's important to look at a problem and think about the opportunity to fix it.
What an incredible lesson, thank you for sharing that Mart! Let's lift up the 'mood' and move on to our next question…What is your proudest achievement so far and why?
We are not very good at pride. The curse of building and finishing these kinds of solutions is you need to go hunt problems obsessively and it's hard to stop. If you build anything meaningful it's probably because you are dissatisfied, to begin with, and that is hard to shake.
It's important not to spend lots of time thinking about your own achievements too as we have not finished, so stopping would be a failure. For our solution to work, it needs to be as big as the problem so we have to drive it forward relentlessly.
If we take pride in anything it's watching our team thrive, many of whom grew up with the business and have helped build it. They've achieved carbon neutral status, and we've recovered and remade tonnes of organic materials through our Remill program. It's been nice to share this technology with startups, brands, businesses, and events.
We're optimistic about how much more material we can keep in use and flowing together as our recovery system gets better.
What awesome achievements and proud moments! Let's move on to getting to know you a bit more. So, if you were to go back in time, what piece of advice would you give to your younger self?
There have been some super brutal times but they shape you and teach you stuff so it's hard to reflect and want to change much.
When we first started out, we had a budget of £200. I remember spending most of that on some business cards. Why would an internet business need business cards? But it always makes me laugh thinking about it so it's probably worth the £200. I suppose what I take from it is every time we did something conventional, it failed. To build something big it needs to be meaningful, new, and that means doing things differently. So advice and experience are overrated if you're trying to do something nobody has ever done.
It helps to develop the ability to think for yourself and work things out from the first principles. It's 10x more expensive to use plastic-free packaging, for example. You can't fight that. So we figured out how to automate our factories to support our team and increase efficiency. Then we could take those savings from one place in the supply chain and use them at the other end to create plant-based packaging to ship orders in.
Picture Credit: Teemill – Consulting with experts in our manufacturing factories
Once you start looking at things differently, you start noticing all the ways in which our supply chains are built for waste and if you design out waste, business goals and environmental goals align. That's why we print products in real-time. Our technology in our factories means we can make products in the seconds after they are ordered so there are no startup costs for brands using Teemill, while we also design out overproduction and waste.
6. We at BoxHuman follow this motto "We believe that sharing inspiring words can inspire others." What inspires you both on a daily basis and why? And if you were to say something to uplift someone else what would it be?
I think it's important to learn to inspire yourself. The best way to do that is to complete a task, change something and form the habit of reminding yourself that waiting for things to change won't change anything, only changing it will change it.
I think people often think of the economy as a thing that happens to them they can't control. The economy is just the sum of all the things people do each day. Everything we do and make and use was designed, so it can be redesigned. We can all participate, change the game and make our own rules.
We wanted to see natural, sustainable, circular products and we wanted to see technology in the world that made all that available, accessible and affordable. When we started doing that, nobody stopped us!
Finally and to conclude this inspiring interview…
A BoxHuman is an individual that believes in empowering themselves and others to transform the world for the better. Can you please tell us what makes you a BoxHuman?
Sustainability is not a premium thing for only those that can afford it. This is about our civilisation and that means everybody. The solution is systemic so everyone in the system has their part to play. It's a creative, technical, administrative problem, a mechanical, financial, and ethical one. Once we built a brand that had a credible solution and scaled up, we opened up all the work and technology we had built so that others could benefit. Instead of our 1 brand using a circular, carbon-neutral supply chain, now 10'000 brands use Teemill.
For sustainability to work, we need to empower each other and work together. If that means being a BoxHuman then it's a box we're happy to be in.
"Thank you, Mart."
Inspired by this story? Please share this story to inspire others.
More from Business Stories
---
"Lack of capital challenged me but giving people a lifetime of skin confidence makes me stand out." Helen RitchieWe at BoxHuman …
"I had a debilitating fear of speaking in public. Now I empower women to stand up and shine" -Lillian OgbogohBoxHuman …
"My unhappiness lead me to blog, now I'm an award-winning blogger and UK Blogging Coach" – Vix Meldrew
Editor Picks
---